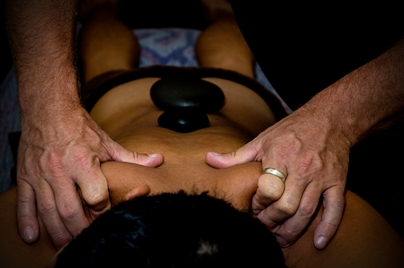 A unique therapeutic massage using smooth volcanic stones to increase blood circulation and relax the muscles, allowing for a firm yet relaxing therapy.
Feel the knots and tensions melt away as the stones are glided over the entire body and with the use of various massage techniques work your body to a feeling of total relaxation and balance.
The warmed stones allow for a much deeper release of tensions, while a range of essential oils suited to your needs are used to promote general health and vitality.
Prices
½ hr
$50
1 hr
$80
1½ hr
$120
2 hr
$150
To arrange your therapy please book now.
Appointments are highly recommended.
Gift Vouchers are available for purchase.
| | | | | |
| --- | --- | --- | --- | --- |
| Please note that we accept Mastercard | | Visa | | direct deposits, or cash. |
All treatments use a range of essential oils, creams, and massage products.
Please ensure we are aware of any allergies or sensitivities prior to treatment;
this is for your own safety and well-being.
Please note: treatments, prices, and clinic hours may change without notice.